Content and communications through Covid-19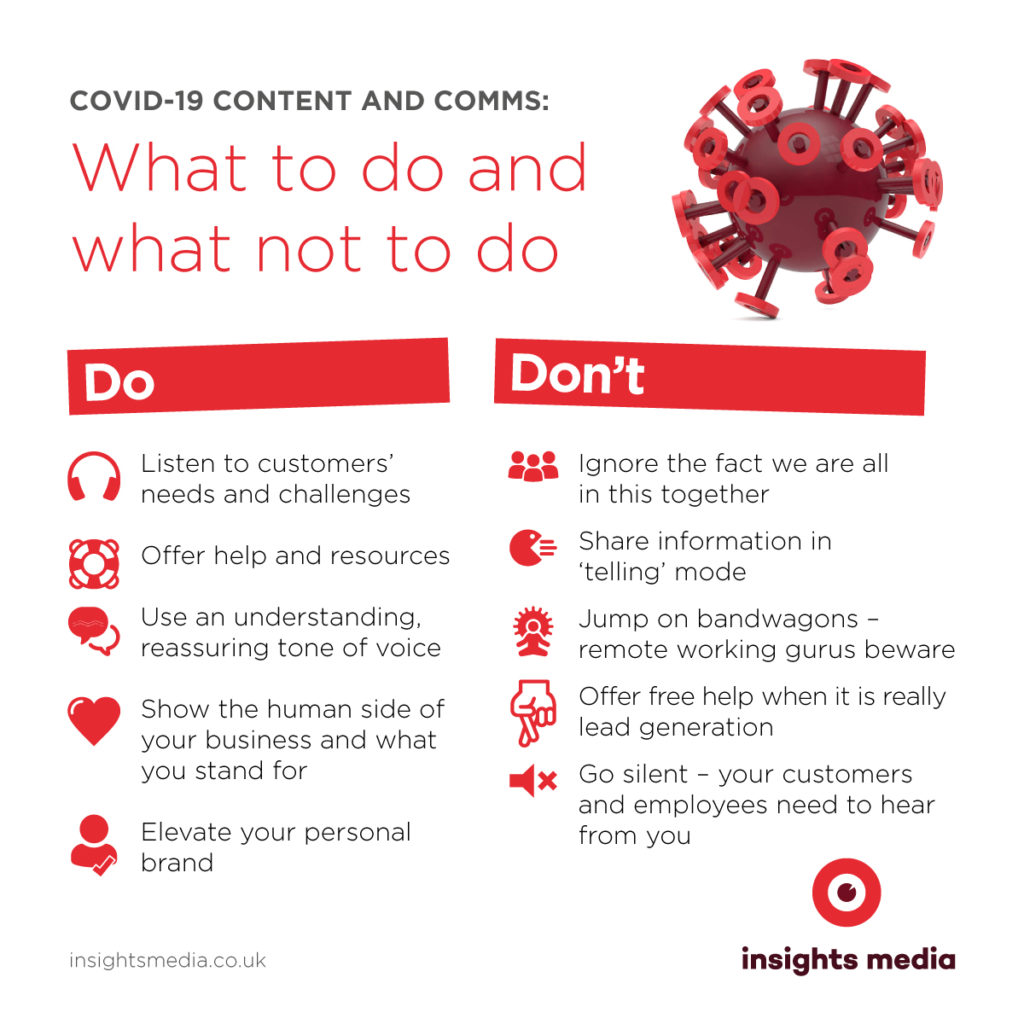 The Covid-19 pandemic is unprecedented. That means we have never experienced anything like it before. There are no rules or best practice guidelines on how brands should respond and how they should communicate with their customers. That's why we set up our virtual Content&Comms Coffee sessions, inviting the L&D community – vendors and practitioners – to share their thoughts, experiences and concerns with us.
Here are some reflections based on the conversations we had at our first two events:
At both sessions we took a look at the communications brands in the learning space have been producing at this time and found that they tend to fall into these categories:
Silence
Business as usual
Selling/lead gen whilst pretending not to
Genuine offers to help support customers
It is worth noting that our customers are trying to figure things out and to do this they are forming small communities and sharing useful information and stories.
Key point: Customers are helping each other. How are brands helping customers?
It is also worth noting that there is currently a lot of 'telling' in the market. Everyone, it seems, is a remote working guru. Brands need to balance telling with showing. They need to be able to identify customers' challenges and provide practical how-to help. There will be a backlash to the remote working noise. Social channels are a good way to receive and answer questions.
Key point: Understand your customer's need and provide useful content/resources.
At a time when many businesses will be under considerable financial strain, learning brands must balance their free offer and paid offerings. Many brands are offering free content and resources but free is not a business model so think carefully about where your paid services fit in. If you are a learning technology provider, a useful offer right now is to help customers get the most out of your platform and to help them use it to overcome their immediate needs. Also consider helping customers with scenario planning and facilitating activity around that. This type of activity will help take organisations into the future and (hopefully) provide you with more work.
Key point: Genuine offers of free, useful content resources are very helpful but be mindful of where your paid business fits in and how you communicate that. Reach out to people – they need help.
How we communicate through Covid-19 really matters. Brands have an opportunity to make a difference. Why? Well, that's best summed up by this quote by author Maya Angelou:
'I've learned that people will forget what you said, people will forget what you did, but people will never forget how you made them feel.'
 Thank you to virtual coffee attendee Charlotte Buckingham for sharing that quote with us.
We are in uncharted waters and people and brands are craving information to help them get through it. Now is the time to add value. How we make our customers feel now will impact how (and if) they do business with us in the future.
Our communication needs to be attuned to the following factors:
Recognition
Our comms needto recognise our current situation and that we are all in it together.
Connection
Individuals and brands are craving connections. We have a part to play connecting with our customers and collaborating with them. We need to connect with them on a more human level. This is something the Sainsbury's CEO Mike Coupe has been doing very effectively through emails to customers.
Purpose
We need to show our purpose and to be able to tell our customers what we stand for. This has implications for your personal brand, which is also an important factor right now. Remember, people buy from people.
Speak with emotional intelligence
Our customers want honesty, integrity and reassurance. They want to work with trusted partners that understand their challenges (they listen) and work with them (partners) to get through the current crisis. This will need a more human, emotionally intelligent way of communicating. Just look at the way New Zealand's Prime Minister Jacinda Ardern is communicating if you are looking for inspiration.
We also need to recognise that once the immediate panic response to Covid-19 is over, our customers will be looking to develop their businesses in new ways. They will be stepping into a more creative space and will need support. Evergreen content can be useful here – don't brand everything with Covid-19 as it will date over time.
Key point: Comms and content professionals can help customers explore and communicate how their businesses are changing. These comms will be critical for internal and external stakeholders.
And finally, focus on creating the right tone of voice in all of your communications. Be more human – listen, be kind and show humility. Your customers need to be reassured. They need to work with trusted partners who understand their challenges. The usual sales techniques do not apply right now .
To join our regular Content&Content Coffee sessions, please click here.