How to use whitepapers to boost your content marketing efforts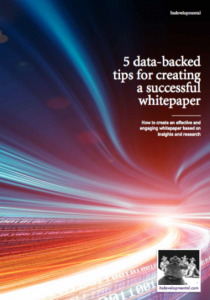 Every year that Smart Insights runs its state of digital marketing survey, one trend comes out on top: content marketing. It's the same again in this year's report, The State of Digital Marketing in 2018: What works best in Digital Marketing today?.
When Smart Insights, an online marketing advice publisher, asks marketers what single marketing activity they think will have the biggest commercial impact for their business and for their clients in 2018, content marketing takes the top slot every time. In 2018's report, 20% of the 850 participants said content marketing is their number one priority, followed by big data with 14% of the vote and artificial intelligence and machine learning taking another 14% of the vote. Other forms of digital marketing trailed a long way behind, such as search engine optimisation, which took only 4% of the vote and paid search marketing at 2%.
What does Dave Chaffey, co-founder and content director of Smart Insights think about content marketing's prominence? "We see content marketing as the 'engagement' fuel that powers all digital communications from search to social to email marketing to creating website experiences which convert," he says. "The trend I'm seeing here is that businesses are getting serious about treating content as a serious resource."
The Smart Insights research shows that organisations are serious about using content as a strategic resource. The intent is there and a lot of organisations are producing a lot of content. But are they serious about producing good content that hits the right spot? That's the question organisations need to be asking themselves.
Marketers want content marketing to have a commercial impact, but to achieve that, they have to get it right. Content marketing has to be considered, it has to be relevant and it has to deliver a compelling message that resonates with its target audience. Otherwise it's just more noise in an already noisy world. Consider these questions posed by the American tech research company Forrester alongside its playbook, The Content Marketing Playbook for 2018:
How is content influencing audiences?
Is your brand forging the basis of better long-term and more-efficient relationships with existing and future customers?
And how is all of this activity contributing to the business' success?
A critical part of a successful content marketing strategy is, of course, choosing the right medium. For a lot of organisations, that means whitepapers. The latest report by The Content Marketing Institute found that whitepapers and ebooks are the most effective type of content used for B2B content marketing. They are fourth most commonly used, but number one for effectiveness.
At Insights Media we firmly believe that great whitepapers produce great results. But what makes a great whitepaper? What is a whitepaper and how do you produce a good one? Find out answers to these questions and more by reading our whitepaper on whitepapers. Click here to download your copy.