Research Digested: The Future of Learning Report 2021, FutureLearn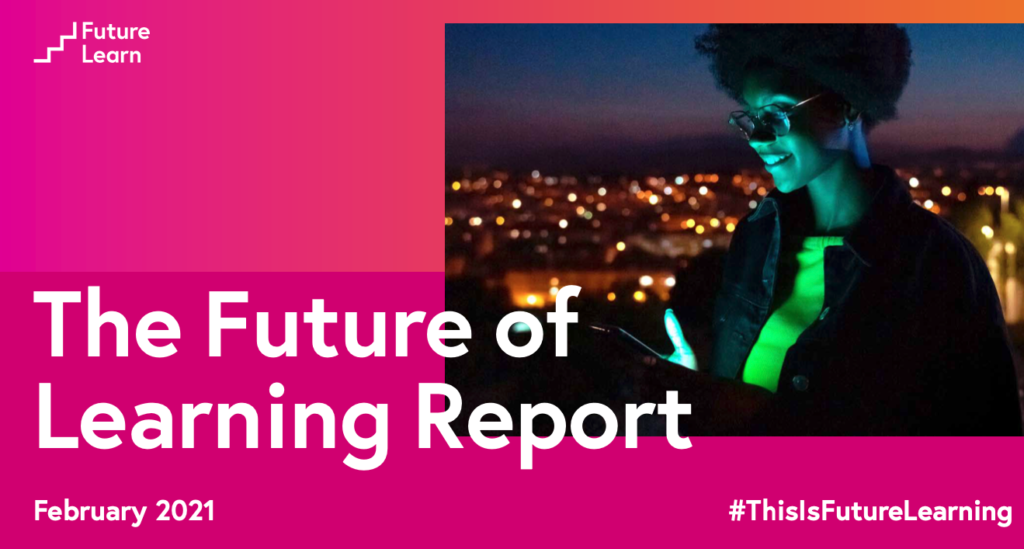 A snapshot of useful research for L&D and workplace professionals
Why read this report
Unlike other learning related research, this study includes attitudes to learning from both a personal and work perspective. It also focuses on generational and gender differences, which make it richer and more relevant.
About this research
Around 4,0000 adults across the UK, Australia and the US were surveyed as a part of the research. The fieldwork took place between the 2nd and 7th of December 2020.
Standout stats
This is a whopping 74 pages long so there are plenty of stats to get your teeth into. The reports highlights the following trends:
Women trust education
Brits falling behind
Gen Z leads the charge
Inclusivity is on the up
Young people mobilising on social media
Online is the new normal
Professionals want a career boost
N0 more 'jobs for life'
Wider range of qualifications accepted
Self-development sweeps the board
There are stats to back up each trend so delve in wherever your interest lies.
The stats on gender preferences around learning are interesting. For example, women say that being able to learn at your own pace is a benefit of learning online (62% compared with 50% for men) and they prefer structured online learning – that is guided but can be taken at your own pace (42% versus 35% for men). Women are also more likely to take an online course for personal development (40% versus 35% for men).
In terms of generational differences, it is worth noting that Millennials and Generation Z are more likely to have used most social media for learning purposes – 24% of Generation Z and 15% of Millennials say they use Twitter to educate themselves about environmental issues, compared with just 6% of those in older generations. And three in 10 Millenials and Gen Zs would like education features on social media.
All generations agree that online learning allows for more diversity and inclusion in education.
When it comes to personal approaches to learning, practical on the job training is the most popular approach, followed by structured online learning and a class with a teacher. Respondents also say that online learning is better for introverts, provides privacy to learn unfamiliar subjects and increases self-esteem. Other statements believed to be true about online learning, include 'complements traditional education', 'learn targeted and specific skills' and keep up with technological change'.
Final word
This research is useful for understanding shifting attitudes towards online learning. In particular, the stats on gender preferences suggest that organisations should be thinking about how learning can better engage women. Have L&D teams been thinking along these lines?
Report reading time: 40 minutes
Media: PDF