Bringing the barcamp experience to organisations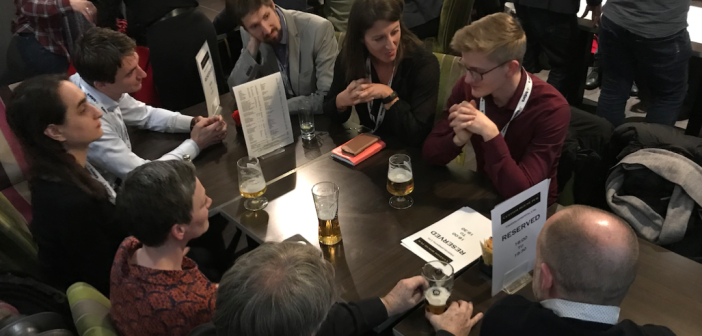 "Barcamp is the best bit of Learning Technologies." That's what a lot of people say about our Barcamp event.
We've just run our eighth Learning Technologies Barcamp and, as with the others, it was a huge success. You can see the feedback on this LinkedIn update as well as reflections from the event speakers.
The event follows a simple format. Speakers talk with a group of attendees for 10-15 minutes and then move on to the next table. The event finishes when all speakers have spoken to all tables.
The events are informal and are held in a pub at the end of day one of the Learning Technologies Conference. It's a sell out each year and as I said, we always receive great feedback.
So what makes them work? In addition to the informality and the drinks, the event features speakers who have interests, experiences, and expertise on a topic. These people are usually speaking at the conference and it can often be hard to sit down with them and have a decent conversation about their area of expertise in that environment. We created this event to enable these conversations to happen.
A lot of attendees have suggested that I do these event for organisations. I think it's a great idea because the format so obviously works. It is informal but focused and features the sharing of high quality information and conversation. It presents an opportunity to bring in speakers who might not have the opportunity or forum to speak informally on their topic. And it is a way of helping transform thinking on a topic.
So, what do you think? Could the barcamp experience work for your organisation?
We can help you facilitate barcamp events, so please get in touch to find out more: team@insights.co.uk