Insights Media launches Research Roundup series for corporate learning
Specialist L&D content agency Insights Media has launched its new Research Roundup service for learning teams. Every quarter, Insights Media will focus on an important learning topic and identify between four and six relevant pieces of research, pulling out key data, comments and action points. It will conclude each Research Roundup report with its own action points – learnings that L&D teams can take from the research to inform their thinking and practice.
"Scanning research and curating insights from that research is a core part of our working process," says Martin Couzins, director, Insights Media. "For a number of years, we have been producing curated research summaries for clients, for Learning Now TV and on our From Scratch Podcast. With so much change across learning we wanted to focus on hot topics and look at what the research tells us. The reports aim to act as a mirror to the industry and to highlight areas for improvement."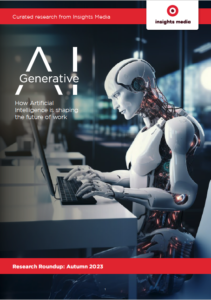 For this first report, the spotlight is on generative AI. Called 'How Artificial Intelligence is shaping the future of work', the report explores the current appetite for these new tools, how people are using them, what works and what doesn't.
"AI was the obvious topic to kick off with," says Roisin Woolnough, head of content, Insights Media. "It's a big issue for everyone, including learning teams, but a lot of people are still hesitant about using these new tools. By raising awareness of gen AI, the benefits of various tools and the pitfalls, we hope to help people and organisations overcome any barriers and start integrating them into everyday work."
The Roundups are designed to raise awareness of research on a topic and to provide a taster of what the research says so that readers can explore the research further if they so wish. Insights Media has been researching, writing about, and commenting on the L&D market for more than 20 years and curates research related to current challenges of inhouse learning teams and suppliers.
Commenting on the launch, Dr Nigel Paine, leadership expert and co-presenter of Learning Now TV, adds, "This report gives you five excellent reports from big players in the market including Deloitte, McKinsey and Salesforce. You can read a summary of the reports and go to the original if you need to read them in full. The report also includes six action points for L&D teams, which are very useful. I recommend reading it and to start building on some of the insights shared in the report."
Generative AI –  How Artificial Intelligence is shaping the future of work' can be downloaded here. https://insightsmedia.co.uk/research-roundup/