Our work in the first quarter of 2020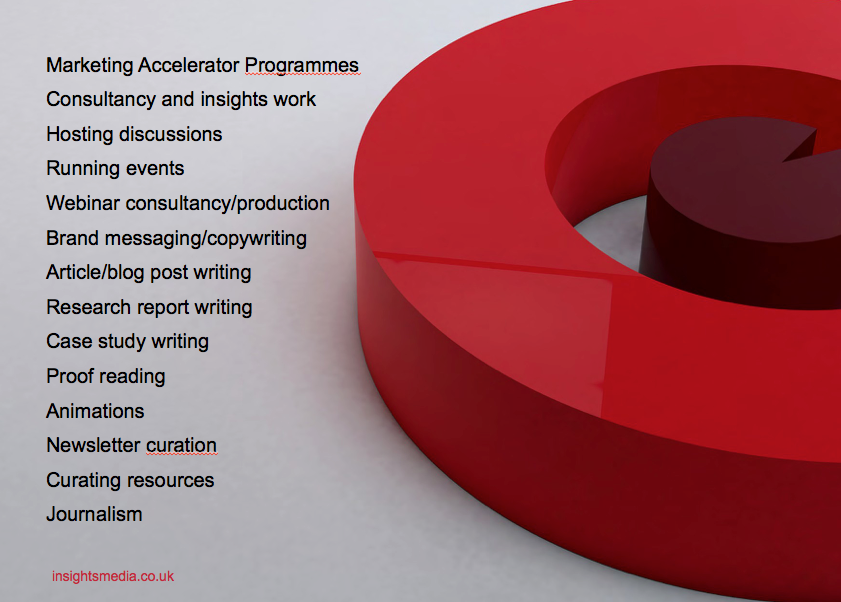 Here at Insights Media we provide a range of different content and communication-related services. Communicating this range can be a challenge but one way to do it is to share examples of what we have been working on. So that's what I'm going to do now.
I know we haven't quite reached the end of the first quarter but here is what we have been up to so far in 2020. If you'd like a chat about how we can help you with your projects then please get in touch at team@insightsmedia.co.uk
We aren't always able to name our clients, in case you are wondering!
Marketing Accelerator Programmes 
Our first clients have been through our Marketing Impact Assessment and follow-up workshop. Feedback from one client has been that the process enabled them to stop, think and progress their marketing at the right speed and in the right way. "In the past people have either tried to go into tactics too early, or try to get me to change the model.  And overthink and talk at me. You listen really well, are open to ideas (not just telling me) and allowed me time to process what we discussed so I could simplify what we are looking to do, and avoid any feelings of being overwhelmed from project/task overload."
Consultancy and insights work 
We have provided insight papers and consultancy to learning suppliers in order to help them better understand the market and the challenges facing their customers.
Hosting discussions 
Over the last few weeks, we have enjoyed working with the Open University to facilitate discussions around apprenticeships and free learning. We hosted a panel debate on the Apprenticeship Levy, more here, and also a roundtable discussion on OpenLearn, which is due to be shared soon.
Running events 
The start of each year sees us running our annual Learning Technologies barcamp event. This year was another busy event, focusing on the topic of inclusion. We had a first for the event as well this year – artist and consultant Doug Shaw co-creating a piece of art with attendees. More on that here.
Webinar consultancy and production 
Our client Drake Music has been running a series of webinars over the last few weeks. Our role has been to help with the design of the events so that they are engaging and participative and then to produce the events – managing the tech and providing event support.
Brand/website messaging and copywriting 
We get involved in a lot of brand messaging work and this first quarter has been busy on that front. It means helping our clients hone their message so that it resonates for their customers and more widely in the market. Our approach is to understand the secret sauce of our client's business and the value they generate for their customers. We then build the messaging.
Article/blog post writing 
We love writing and have been producing a wide range of articles and blog posts for our clients. We have mostly written about L&D and HR related topics. We also write as journalists too (see below).
Research report writing 
Research and insights are threads that run through our business so no surprise then that we help clients with research and related reports. We have written a report on digital learning and are currently researching one on learning trends. We also create a quarterly research digest for a leading institute in corporate learning. This involves identifying useful research reports and digesting them to make them as accessible and useful as possible.
Case study writing 
Using a journalistic approach (interviews and research), we work with our clients to help tell their story. A key part of this is amplifying the customer voice. We talk with our clients' customers to understand what value they get from working with our client, what it is like working with them, and so on. These insights not only turn into case studies, they also help shape the customer experience and, in some cases, product development.
Proof reading 
When we are not writing content we help proof read other people's content. Clients like us to check content for style, sense and grammar. We also act as a critical friend, making suggestions to help ensure content is as engaging and valuable as it can be. We have had some challenging but enjoyable pieces of work in this area.
Animations 
People have less time to read through research, which is why we developed an animated approach to research. This involves creating a story from data and then animating it. We have done our own here and this is a piece we did for a client.
Newsletter curation 
How do you make a monthly newsletter engaging for your customers? We help one customer by curating useful links for their audience. We add commentary to the links to help people decide whether content is worth looking at or not, which is important when people are time poor.
Curating resources for a membership organisation 
Over the last three to four years we have curated resources for senior learning professionals based on the challenges they face and the topics they want to learn more about. Curation is a key part of how we work. We also talk at events on this topic.
Journalism 
This quarter we have written for Training Journal and Personnel Today, The Guardian and for a membership magazine called Continuity & Resilience. Insights Media is run by trained journalists and we like to write for a broader audience when we can.
As well as our client work, we continue to:
I hope this gives you a flavour of what we do. If you need help with your content and communications then please get in touch. We'd love to hear from you.